I believe that you are here for a reason
You want more freedom, more abundance, more impact. And you want to feel aligned while living your potential. I am here to help you embody and BE all of that. You see, I believe that you are meant to expand and experience true abundance and wealth in all areas of your life. That includes having a thriving business AND a kickass life while being true to yourself.

You want to express yourself fully, you know you have a bigness within you that wants to get out. Right now you know too well in your heart and you can feel it in your bones that you're holding yourself back. You want to contribute in a greater way and you are ready to expand and LEVEL UP. It's time to power up your brand by simply being – unapologetically YOU.
I feel you, I've been there too.
EVERY STORY HAS A BEGINNING
My personal growth journey and search for purpose  started with eating disorders as a teenager. I spent more than a year in therapy when I was 16 years old. It made me understand from an early age the power my state of consciousness has for my perception of myself, others, and the world.
Ever since then I've been fascinated by holistic health and everything connected to spirituality, personal development, and human potential. I jumped off the corporate ladder back in 2015 and went on an inner quest and embarked an entrepreneurial path to find my true purpose.
I've taken multiple courses and programs all around the world, and I've spent thousands of hours (and dollars) of self-studies in the field of personal development and self-mastery while working with multiple high-end coaches and mentors worldwide.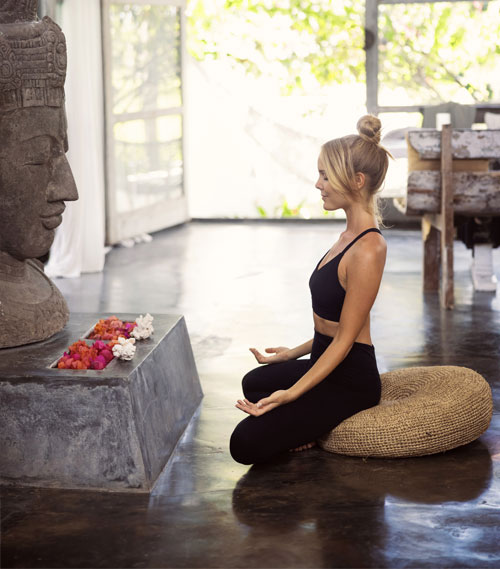 I've been on a long journey in order to break free from who I thought I needed to be so that I could do the one most important thing I believe we all need to do. I gave myself permission to BE ME, shining my light unapologetically and expressing myself without any holding back or fear of what "others will think" of me.
When you move beyond whatever it is that's holding you back, it will set you free so you can rise and thrive. The magic part is that your business will grow with you. Because when YOU give yourself permission to be and express your brightest light, and live your full potential, you will inspire others to do the same.
Today I live a freedom-based life in Bali with the world as my playground which used to be a big dream of mine. I've had my fair share of setbacks that forced me to turn inwards and deal with the BS I had living inside me. I've gone through eating disorders, a burnout as the high achieving performer I am, and I've also gone through painful heartbreaks (among other things). You know, the kind of things that all of us go through at some point in our lives.
My own mess, and the fact that I decided to not only deal with it but to embrace and to move beyond everything I had living inside me is the reason that I am where I am today in my life. Now I'm passionate about helping you to do the same because when you OWN your story and your uniqueness and live your truth, you will become a force of light. The magic is to be found in your mess so be authentically YOU, and you will set yourself free.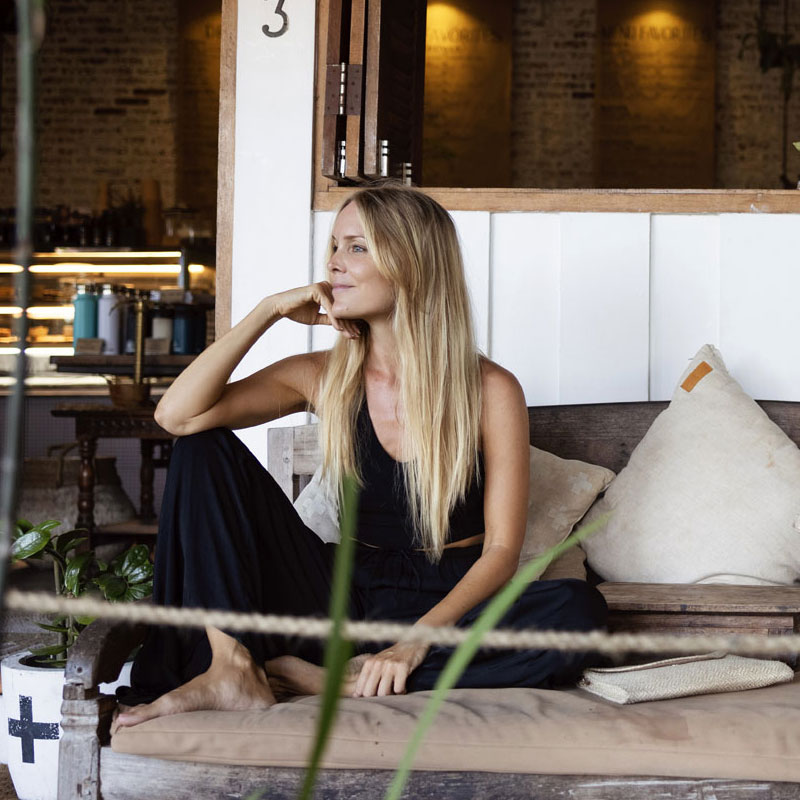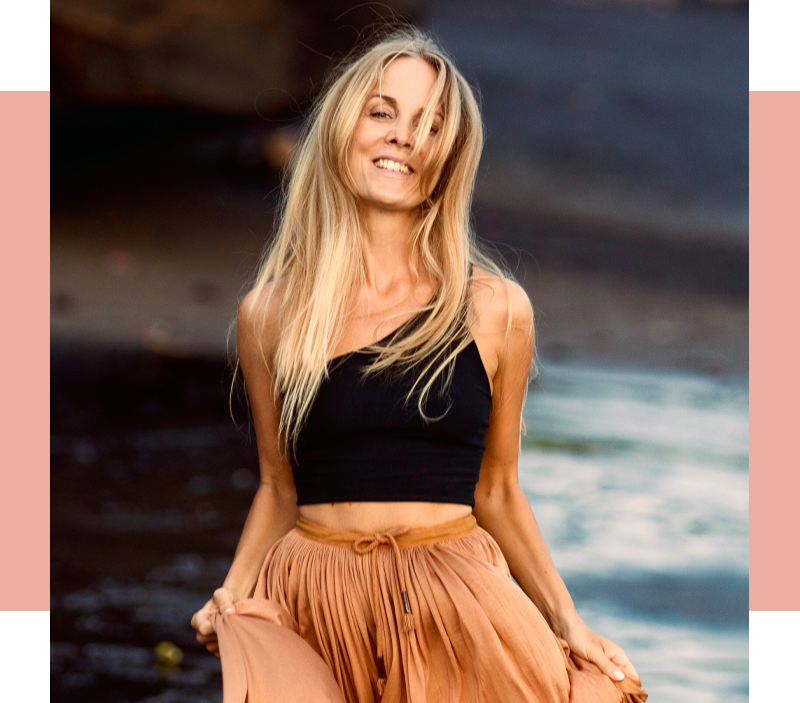 Have you heard about Pippi Longstocking? If you don't know about her, please google! She is the original icon of fierce girl power and how to courageously walk your own path and do your own unique damn thing. Growing up, I loved this girl. She was my hero, not only for me but for a lot of young girls all over the world. She lived her life the way she wanted, she owned her uniqueness and she was clearly having FUN. Why am I telling you this story?
Because it tells something about me (and I think it speaks to you too), I'm born and raised in a small town in southern Sweden and I've always had big and massive dreams. I knew from an early age that I wanted to get out and explore the world. Hence the reason I got hooked on lifestyle entrepreneurship, to develop my passions and purpose around the lifestyle I wanted to have. And now I'm here to help you do the same, it's time to create success on your own terms!
You are a Powerful Creator
This I know for sure, you need to own your unique story and commit to inner work if you truly want to grow the brand called YOU and have your business boom and bloom. Because real authenticity, and you being you is your ultimate superpower no 1 – it is your biggest asset and it's what will make you stand out and the one thing that will set you apart from the rest.
Your mindset and emotional patterns matter big time and the energy of the thoughts and emotions you're constantly feeding yourself with is essential to understand and master if you want your business to flourish. All this combined makes you a powerful creator of your own reality. When things start to change inside, your business will grow and flourish with you.
I don't only work with personal branding, coaching and life design. It's essentially all about powerful personal transformation. The strategy might be 20% of your success, your ENERGY – how you show up is 80% if not even more. When you build your platform from a place of radical alignment and authentic power, you will soar. Upgrade your mindset, own your uniqueness, and you will drive massive success.
My work (and this site) is dedicated to sharing knowledge, ideas, tools, and strategies that will help you to unapologetically build the brand called YOU so you can grow your business and create the results and impact you most desire.
The world needs your unique gifts, it's time for you to rise.
I offer transformational 1:1 coaching, business mentoring, and group coaching programs and courses that are customized for your specific needs. This is for you who are ready to commit wholeheartedly and to fully show up for yourself, your business, and your true heart desires so you can step into your authentic power. It's time for you to move beyond self-imposed limitations and share your brilliance and ideas with the world.
Luckily, you haven't come here by mistake and I'm confident saying and sharing that I can help you to move beyond whatever it is that's holding you back. If my words speak to your heart, we would most likely be a great fit working together to create results.
Let's talk about how that perfect combination of mindset and embodiment practices, savvy business strategy, and powerful daily internal training will transform and expand you and your life into everything that you're currently only dreaming about.
SCHEDULE YOUR FREE 30-MINUTE
DISCOVERY CALL HERE

When you invest in the brand and business called YOU through inner work, you're also creating a meaningful impact in the world.
Because as you rise and expand, so will the world.
These are the core values that I live by every day, personally and professionally. The work I do, this site and all my services are products brought to life coming from these beliefs. As you move beyond old programming, you will become a force of love and authenticity that positively will impact and empower the world. If you want to make the world a better place, you need to start with yourself and become the change you want to see.
Leading with love is a key to leadership success and deeper connections. To lead with love is a powerful way to change the world, shaped by the love and care we show for each other.
When you choose to practice and cultivate a culture of joy every day, you have reached a destination within yourself that means you have the resources to give so much more.
Liberate yourself from what's holding you back, it will set you free so you can rise and thrive. Give yourself permission to be who you truly are, and you will inspire others to do the same.
Health is your greatest wealth, and vitality is essential if you truly want to thrive holistically in all areas of your life. It's what distinguishes living your life to the fullest from the nonliving.
Living authentically and acting with integrity requires bold courage. Be faithful toward yourself and you will take a stand for a more genuine and real world.
We thrive when we belong and we rise as a collective by elevating each other. Together we can achieve far beyond what a single person could do. Together we realize our greatness.
I'm dedicated to helping women with ambition to unapologetically BE themselves so they can grow their business and serve from a place of heart alignment. While creating a positive and powerful impact for a better world filled with more love, joy and authenticity.
CONTRIBUTION AND GLOBAL IMPACT
I believe that internal work and the way we choose to BE and show up in the world have a global impact. It's time to come together to lead our life and businesses with authentic power and bigger perspectives to support and serve our people and the planet we all live in and love. There is enough space for all of us to shine bright, and I believe that every one of us has unique talents, gifts, and skills that should be equally celebrated to elevate the world.